Stuffings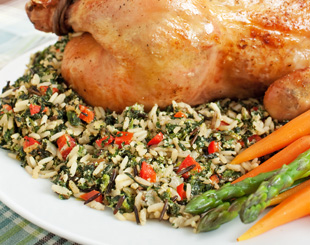 Our premium quality rice and pasta dishes make great small plate appetizers, or terrific main dishes, just add creativity. Use them as a stuffing, add to a salad, turn them into a soup, or even make them into a dessert. The sky is the limit with these all tasty dishes.
Recipes
How about a delicious and zesty Spicy Sausage Rice Stuffing in Roasted Turkey recipe? With Farmhouse® Spanish Rice make this easy recipe that you and your whole family will love.
---
Now with the help of a box of Farmhouse® Long Grain & Wild Rice Herb & Butter, you can make this tasty Florentine Wild Rice Stuffing in Roasted Chicken recipe.
---
Did you know that Farmhouse® Long Grain & Wild Rice Traditional Herbs & Seasonings makes a delicious Wild Rice Apricot Stuffing in Roasted Chicken with this easy stuffing recipe?